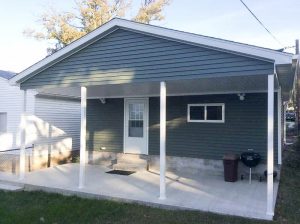 Storing a few garden tools, a leaf blower, and a lawnmower isn't the only use for a backyard outbuilding. Today's outbuildings are versatile because they can be suited for a wide variety of creative uses. Here are a couple of ideas to inspire you to consider the creative ways a backyard outbuilding could help you achieve your dreams.
Workout Room
Physical fitness is important, but the nearest gym may not be conveniently located. Bumping into the furniture while you exercise in the house gets frustrating fast. Also, you probably would love some exercise equipment but there may not be a place for it in the house. Treks to the gym become unnecessary when you have a private workout room in your backyard. Also, there's no furniture in the way of your stretches, jumps, or push-ups. You'll have plenty of room for an exercise bike, some free weights, or a treadmill in your workout outbuilding. You don't even have to miss out on the benefit of a workout instructor; your laptop or smartphone can provide access to free fitness classes online.
Artist Studio
Whether you're a professional artist who is tired of renting studio space or a hobbyist who needs a place to be creative, a backyard outbuilding studio is a great solution. Outbuildings offer a quiet, distraction-free space where artists can focus on their work. Since an outbuilding can have a custom configuration of windows, skylights, and doors, a backyard art studio can offer plenty of natural light and ventilation. An outbuilding can be a dedicated place to store and display your work. Finally, you'll have space to properly organize and store your canvases, brushes, paints, or anything else you use to make your masterpieces.
If there's a dream you could make come true by adding a backyard outbuilding to your property, contact us today to schedule a free consultation.