Do you have a pool in your backyard? If so, do you have a pool house? Many people don't, and it's a shame, because they can be so useful. Below are three benefits of having a pool house that you may not have considered.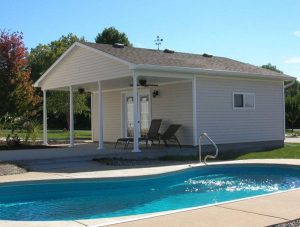 Extra Storage – A pool house is a great place to put your outdoor items when winter comes. This can include your patio furniture, pool toys and accessories, and lawn mower. You can even store your summer clothes and towels in there. It will help you with keeping the space inside your garage exclusively for your garage items. Depending on the size of pool house you choose, there are so many possibilities of what you can store inside of it.
Exercise Room – If you have enough space, you can also put your gym equipment in the pool house. This won't just let you save space in your house, but it will keep you from disturbing your family when you are working out. This also will let you enjoy your pool house throughout all four seasons.
Great for Entertaining – When you decide to have a pool house, you also decide to create an excellent space for entertaining. It will be a great place to put food and drinks when you are having your outdoor barbecues, and you can even let people use it to change their clothes and keep their items dry and out of the sun. This way, you also won't have to worry about people going in and out of the main house with wet bathing suits. If you add a toilet to it, that's even better. There are so many possibilities!
These are just three of the reasons why it's a good idea to have a pool house. It will give you extra storage, it can double as an exercise room, and it helps you with entertaining. What a great choice for the summertime and throughout the year! You'll wonder how you ever did without one. Contact us today to schedule a consultation with one of our expert designers if you are in Illinois, Indiana, Iowa & Missouri.