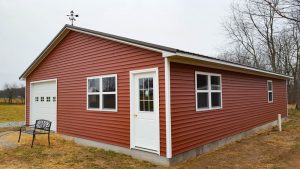 No matter the size of your home, you often still need that little bit of extra space to accommodate everything that you and your family want to do. A great way to get extra space without putting an addition onto your home is with a custom backyard outbuilding. These custom-made outbuildings, which can be built to match the style and look of your home, are gaining popularity because of their versatility.
Family Game Area
This type of structure works beautifully as a game area for the entire family. You can outfit the space with one or more game tables and chairs where your family can play cards, board games, or put together a jigsaw puzzle. You can also include one or two comfortable, padded chairs where people can relax. Place a storage bench in there to hold all your games and provide additional seating. You can also include a corner cabinet to hold snacks.
Man Cave
A separate building in the backyard makes a perfect and private place for a man cave. Place a comfortable sofa and a large television in the space. Install a small refrigerator for drinks. You can then get away and watch a game by yourself or invite over some friends to enjoy the experience. You can use your man cave to read the paper or a book in complete quiet or even take a nap.
Party Space
If you want a unique space for parties, a custom outbuliding is a perfect solution. You can place a dining table inside with multiple chairs and a gorgeous throw rug under the setting. With a space designated for parties, you can decorate it however you want for special occasions or holidays without any upheaval to your home. After a party, take your time cleaning up instead of putting in long hours to get things back to normal for everyday use.
When you invest in a custom backyard outbuilding, you have almost unlimited options as to how you can use it. A quality building built with materials that will last, it will add function and value to your property. For more information about custom backyard outbuildings, please contact us today.