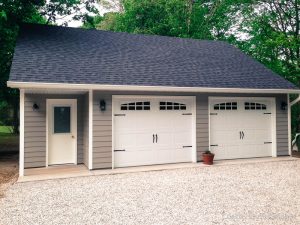 People often install rain gutters on their homes but neglect to put them on garages, especially when this building isn't attached to the house. Nonetheless, there are a number of compelling reasons to protect a garage in this manner.
Benefits
This outbuilding has many of the same exterior surfaces as a house, such as window frames and siding. It's important to shield these materials from excessive moisture if you want them to last a long time.
Rain gutters minimize soil erosion and safeguard a garage's foundation. They help to preserve the entire building, including its inner walls and floor. The doors and windows will also work more smoothly if you prevent foundation damage.
Flooding can easily occur inside of this structure when storms produce heavy rain. Gutters reduce the risk that water will flood the floor and potentially damage cabinets, tools, machines or other belongings.
Placement
It's more important to protect certain parts of a garage, such as the doorways, windows and any fuel tanks. If you install rain gutters above doors beneath the roof edge, you won't have to face a stream of water when you walk through them.
Gutters are less crucial in some locations, including large overhangs and places where the ground slopes away from the building. It's usually more important to install them above soil than concrete, a material that won't easily erode.
Upkeep
If a trough gets filled with acorns, leaves and sticks, it won't be able to channel water away from your garage's walls and foundation. Remember to maintain this equipment regularly so that it doesn't become clogged with debris.
Have you been thinking about adding a new garage or backyard shed? If so, our outbuilding construction experts can help you achieve the best results. Please contact us to learn more about our durable, attractive and affordable structures.