Customer Stories: Ed & Cheryl Yoder
OWNER: Ed & Cheryl Yoder
HOMETOWN: Oakley, Illinois
DREAM: "My husband and I had a small pond built several years ago on our farm. I have always wanted a small building by it so we and our family would have a place to stay."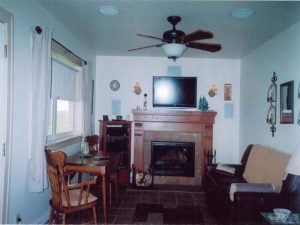 SUMMARY: "After I retired in 2009, I decided it was time to start our project. We talked to Mark McCollom at Coach House and he looked over our ideas and gave us a price quote. On July 13, 2009 at 7:10 a.m. our Coach House arrived and by 2:30 p.m. it was standing.
It was a 20′ x 30′ building which included a 6′ porch on the front. We divided the building in half – one side for a small kitchen/living room area, with a wood burning fireplace. The other half for a bedroom, small closet and a bath. There is a hook up in the bath for a stackable washer & dryer. And we have electric baseboard heat for cold weather.
Our son did our wiring, plumbing, carpenter work and tiled the floors and shower.  My husband and I were the clean-up crew and painters.
Since it's been finished, I have hosted a church women's group of twelve for a meeting and we had several wiener roasts and sleepovers with our granddaughters. We "love" our pond house!"
DESIGNED TO FIT YOUR DREAMS 
When you build with Coach House, you can take pride in knowing you've chosen the best. From hand-selected materials to expert construction, your new Coach House will add functionality and value to your home. And because they are built to last, you'll enjoy many years in your Coach House. Top quality… designed to your specifications. That's the Coach House way.