You love your home and everything about it, with the exception of the space and storage that you have. Sometimes, it's necessary to add space by building onto your home. This is when it can be advantageous to explore the benefits of a pool house.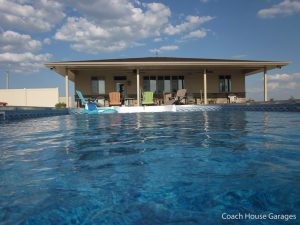 What is a pool house?
A pool house is an additional building on your property that is generally near your swimming pool. How large it is will depend greatly on the preferences of the owner. You can choose to have a pool house just large enough to store all of the important components that belong to the pool. This includes pool rafts, covers, chemical testing kits, and more. You can think of it as a detached garage for your pool.
There are other versions, too. A pool house can be like mother-in-law quarters. It can provide you with the added space that includes its own entrance, bathroom, and more for any number of people who are living with you.
Discover the Possibilities
All sorts of possibilities exist with a pool house. You can have it built to meet all of your needs in terms of space on your property. It can be just a stone's throw away from your pool, offering an incredible view. Plus, it can be a great way to give people a place to stay when you have company over.
The pool house can include a bathroom, a large living area, and more. It can become an entertaining space that goes above and beyond what is already inside of your main home so that you have more room and more possibilities.
Learn more about building a custom pool house to your existing home by contacting us at Coach House Garages today. We can build a pool house to fit your needs and your budget.