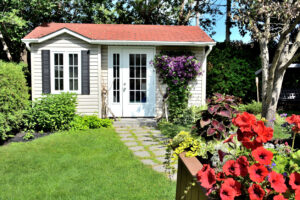 Women everywhere are embracing the she shed trend by transforming their backyard sheds into personal oases. Similar to the ways you can use a backyard shed as a mancave, you utilize a backyard shed as a she shed by using the space for various purposes. Many people construct a she shed to serve as an art studio, home office, meditation/ yoga room, reading area, workshop or as a crafting, hobby or potting/garden shed.
She sheds are a great way to make use of existing outdoor space and create a place where you can focus on your passions and hobbies, or simply relax and unwind. Here's what you need to know about creating the perfect she shed.
Designing Your She Shed
The first step in creating the perfect she shed is deciding how you want to design it. Consider what activities you plan to do in your she shed so that you can choose the right size, layout, and furniture for your space. You'll also want to think about any additional features that will make your she shed even more special, such as plants or artwork.
Creating a Budget
Once you have an idea of what you want for your she shed, it's time to create a budget for your project. She sheds can range from simple structures that cost just a few thousand dollars all the way up to elaborate custom-built spaces with a small fortune worth of features and amenities. When creating your budget, make sure to factor in things like materials, labor costs, furniture, decorations, and any other expenses related to building your she shed so that you don't go over budget.
Building Your She Shed
When it comes time to actually construct your she shed, there are several options available depending on your skill set and budget. If you're handy with tools and feel comfortable tackling this project yourself, then a DIY approach may be best for you. Alternatively, if you don't have experience working with wood or other building materials( or proper tools , permits, and zoning knowledge), then hiring professionals like those at Coach House Garages may be a better choice for ensuring quality results without sacrificing safety or wasting money due to mistakes made along the way.
Creating the perfect she shed doesn't have to be complicated—all it takes is some planning and creativity! Think about how you want to use the space before deciding on its design elements, set a realistic budget that meets your needs without going overboard, and consider whether you should take on this project yourself or hire professionals for help if necessary. With these tips in mind, you'll be sure to create an amazing outdoor oasis that will provide years of relaxation and enjoyment!