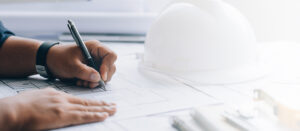 A garage is an important feature of any home. Whether you are building for convenience or as a boost to resale value, good garage planning is well worth the time. A poorly planned garage can give you all kinds of headaches without any of the benefits you were expecting. Whether you're building new or renovating to include a garage, avoid these common mistakes.
Inadequate Depth and Width
Vehicle designs range from the very small to the very large these days. Most people also store riding mowers, ATV's, and other large items in the garage. After you have accounted for everything you hope to store inside, you will find that the dimensions of a modern garage will need to be considerably larger than the garage you may have ridden into as a child.
Allow plenty of space for everything to be situated inside, including room for vehicle doors to open fully so that you won't ding your doors or scratch your paint. As an alternative, design your garage with high storage for seldom-used items so that you can use some height to reduce the need for length and width.
Too Few Garage Spaces
A two-car garage may seem like plenty of space as your family stands today, but it may not be long until you have a newly-minted driver who needs somewhere to park as well. Build the garage big enough now to be ready when your oldest child is blowing out 16 candles.
Even if you only have one car, build for at least two. Single-car garages hurt home resale values because most potential buyers will need at least two. It can also be more difficult to incorporate such a small garage into the overall design.
Lack of Electrical Outlets
Garage designs often fail to incorporate an adequate number of electrical outlets. It seems that everything plugs in these days, and your garage has just as many electrical items as the rest of your house.
While extra receptacles can be added during renovation, it is far better to include them in the initial construction. Power tools, wet/dry vacuums, battery chargers, and the spare refrigerator we all seem to have in the garage will all need close access to an outlet.
Inadequate Lighting
With the development of LED lighting, well-lit spaces are more practical and affordable than ever. Garages have always been notoriously dark areas, making it difficult to park vehicles, walk around inside, or get something done at the workbench.
Make sure your garage design incorporates large fixtures for the overall space as well as small fixtures in targeted areas like storage shelves. You'll have a safer and more useful garage.
Not Including Heating and Cooling
Garages are often thought of as semi-outdoor spaces that don't need climate control. However, there can be some important benefits to incorporating heat and air conditioning.
The outdoor air that gets into your garage becomes trapped against your house when you close the doors, making your living space less comfortable. A climate-controlled garage will get lots of interest from buyers who like to do projects in the garage, making it a great resale point.
Violating Zoning and HOA Rules
Garages are often regulated by local zoning laws and homeowners' associations. There may be setback requirements that prohibit your garage from being too close to the street or property line. There may also be regulations about how much of your lot can be under a roof.
The mistake to avoid here is not doing your homework. Understand how large and where your garage can be so that you don't get hit with stop-work orders, fines, or other expensive penalties.
Making these mistakes during garage planning could force you to make some very expensive corrections. You could spend hours trying to sort through the process, or you could leave it to a professional.
With Coach House Garages, you'll have the advice and expertise of professionals who have worked with homeowners throughout Illinois, Indiana, Missouri, Iowa, and Michigan to design and build the perfect garage. Their experience will guide you toward the right garage for your needs and keep you in compliance with local regulations.