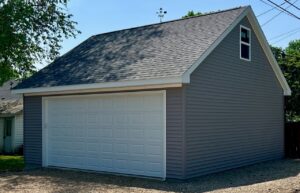 If you are considering adding a garage to your home, you may be struggling to decide whether an attached or detached garage is the right choice for you. While attached garages are the more common design, and they are generally preferred due to the convenience they provide, more homeowners are starting to discover the unique benefits of choosing a detached garage. Here is a look at just a few of the reasons why you should consider choosing a detached garage when adding a new garage to your property.
A Better Fit
While it is not uncommon to see attached garages built with a home during construction, adding an attached garage later is not always a realistic option. Depending on the layout of your home, and its position on your property, there may simply not be a good place to add a garage onto your home. However, this does not mean that you can't add a garage to your property. Detached garages are a much more flexible option when adding a garage to an existing home as they can be placed anywhere on your property and designed to fit your specific needs.
Reduced Noise
Do you plan on having your new garage double as a workshop, studio, or fitness center? If so, a detached garage may be the best option as it will provide some separation between your home and your garage, which can help reduce noise transfer. Whether you are worried about the power tools you use in your garage bothering your family, or you want to use your garage as a place to escape the distractions in your home, a detached garage can help to provide the perfect separation and isolation from your home.
Contact us to learn more about the benefits of adding a detached garage to your home.