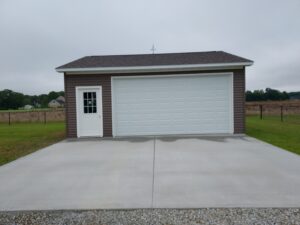 For many, the benefits of working from home outweigh the challenges. Working remotely eliminates the time and expense of commuting. Chances are you're saving the money you used to spend on lunches out, and you may have other benefits, like spending your lunch break with your family.  Although teleworking has its advantages, its drawbacks can cause frustration and decrease productivity. Building a backyard home office is an excellent way to address the difficulties that come with working from home.
Creating a Dedicated Workspace
Do you find yourself regularly moving your workspace to accommodate other family members? Perhaps you're working at your dining room table and moving your office to make space for each meal. Or you may have to share your workspace with a teleworking spouse or distance learning kids. The shared arrangements aren't working well, but you don't have another place to work in your home. Building a backyard office would give you a dedicated workspace.
Regaining Work-Life Balance
Working inside your home makes it difficult to separate work from the rest of your life. Setting up your home office in your backyard allows you to put much needed physical distance and mental separation between work and life.
Reducing Distractions
Concentrating can be difficult when you can hear your family's activities throughout the workday. Also, you may be dealing with constant interruptions from your family. A backyard office can become the quiet space you need to focus and be productive.
Projecting a Professional Image
Maintaining a professional image is still important while you're working from home. It can be difficult to do so when you're exposing your clients and colleagues to the sounds and sights of your household during conference calls and Zoom meetings. You could use a backyard office to create a professional environment for your online meetings.
When you're ready to improve your work from home experience with a backyard office, contact us for a no-obligation design consultation.