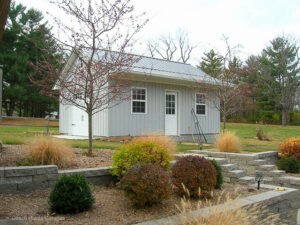 A backyard shed can be so much more than some old, unkempt storage space in your backyard. Your shed could be your dedicated workshop, studio, or a quiet place where you go to get away from it all. At Coach House Garages, we want you to take pride in your backyard shed because we take pride in ours.
Custom sheds from Coach House Garages can offer homeowners so much more, and we would love to help show you how!
New Backyard Shed Installation
Whether you have a shed already in your backyard, or you've always wanted one, our team at Coach House Garages can help you get the shed of your dreams! Our knowledgeable and experienced consultants take your vision and make it a reality.
Custom Shed Consultation
No matter what you have in mind for your custom backyard shed, our consultants can help. We design each shed to suit your needs, style, and budget. Did we mention that your shed consultation is free?
Why Coach House Garages?
Experienced Shed Design and Build
Since 1973, Coach House Garages has been a trusted garages and backyard shed contractor from Indianapolis, IN, to St. Louis, MO, to Princeton, IL, and everywhere in between!
Customer Service Guaranteed
Not only do we have over 40 years of experience crafting beautiful custom backyard sheds, but we also have a top-tier customer service team who is there to ensure you're 100% satisfied with your shed and the process of building it!
Best Materials, Best Sheds
A building is only as good as the materials that go into it; we use the highest quality materials in your custom shed build. We want your shed to look great and last. When you build with the best materials and craftsmanship, you can offer great warranties – up to 50 years on most materials!
Schedule Your Backyard Shed Consultation
If you've been wanting a new backyard shed, what are you waiting for? Coach House Garages offers financing! Contact us today to learn more about our custom sheds and schedule your free consultation!
You can also check out our backyard shed gallery for inspiration!