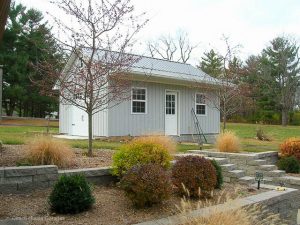 Sometimes, you just need that perfect hideaway location. However, nothing is more exciting than having that spot in your own backyard. Have you ever thought about investing in a high quality, custom backyard building and turning it into a man-centric space? If not, now is the time to give it some thought, and then make it happen. There are numerous things to do with a high quality custom backyard building.
Set Up a Workshop Area
The obvious would be to use the space for working on incomplete projects or storing tools and other belongings. However, it does not have to be all work and no fun in there. How about adding a refrigerator and television for your down time? Not just any television – why not go with an HD TV?
Create a Game Room
You want to be the envy of all the guys in the neighborhood? Add a game room to your mancave, and then invite friends over for night of fun. You will score some major points for having what most men dream of owning: a place to kick back, invite a few friends to hang out, shoot pool, and more.
Add Your Own Sports Bar
After a long day at work, a drink from your own private bar sounds good. With a uniquely designed bar, couple of stools, refrigerator, and other accessories, you can kick back at any time and enjoy a cold drink.
Barbeque/Grilling Ideas
Do you enjoy grilling out with friends and family? Turn your backyard area into the perfect spot to serve up amazing grilled food. Your mancave can be the perfect spot for a few guests to hang out while waiting to eat. For the perfect mancave, create a theme and decorate around it. Don't forget to include important utilities, windows, and anything else that will make the space feel inviting to you.
With a bit of imagination and the hands of skilled craftsmen, your backyard can be turned into something uniquely designed for you and your loved ones to enjoy. To find out more about having a backyard building designed especially for you, contact us today.