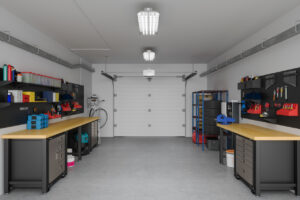 Installing a new garage on your property can deliver incredible benefits. Regardless of the size of your new garage and its features, you can expect it to add property value and functionality to your space. However, the specific advantages will depend on the layout, type and features selected when designing a garage. With this in mind, special consideration of the design is essential.
What to Consider When Designing a Garage
From one-story and two-story layouts to bonus spaces and more, there are many possibilities available when you design a garage. While you may be working with a specific construction budget, you also need your new space to be well-suited for your family's needs. What should you consider when designing a garage?
Your Planned Uses for the Garage
Do you plan to use your new garage primarily to store a boat or a car? Perhaps your new space needs to include a loft or a guest bedroom over the garage. The possibilities are nearly limitless when you are designing a garage from the ground up. As a first step, spend a few minutes listing out how you intend to use the space. Providing this list to our designers will help to ensure that your new space is perfectly suited for your needs.
Your Storage Needs
For most homeowners, one of the most important purposes of a garage is extra storage space. In addition to storing cars, some people need to park a watercraft, a small RV, an ATV or even a golf cart in the garage. Many people have collected a significant number of tools over the years, and these tools each need a dedicated space of their own. To accommodate these tools, a freezer, storage of household items, lawn equipment, sports equipment and more, your new garage may need ample storage space.
An Attached vs Detached Garage
Another important factor to consider when designing a garage is its position on the property. Specifically, will it be detached from the main house or attached? The layout of your property and your intended uses of the garage may influence your decision. For example, your property line may not accommodate a garage attached to the side of the home, so it may need to be constructed behind the house. If your garage will be used for noisy activities, such as running power tools in a workshop, it may be smart to construct a detached garage.
The Need for a Workspace
Whether you enjoy gardening, woodworking or something else, your new garage could be the ideal space to work. For example, a table placed in the back of the garage could be used for potting new plants, or you may have a large workshop area set up for woodworking, varnishing and more. In many cases, a homeowner who plans to use a garage as a workspace also needs ample storage space for vehicles and more.
The Option for a Bonus Room
Whether you plan to build a new extension onto your home with an attached garage or you have a detached layout in mind, creating a two-story garage could yield much-needed extra living space. This could be used as a guest bedroom, a home office or even a rec room for your teenagers. If your extended family lives with you, you could design a full apartment with a kitchen and bathroom space over the garage.
The Electrical Plan
In most cases, a homeowner needs electricity in a new garage. At the most basic level, this electricity may be used to power interior and exterior lights as well as a garage door opener. More power may be needed for power tools, appliances and other items. With an attached garage, the electricity from the original structure can be accessed with minimal additional cost. For a detached garage, utilities will need to be extended to the new space. This can increase the cost of the project.
Heating and Cooling Needs
A heating and cooling system is not needed in every garage. For example, it may be relatively pointless to install HVAC system capabilities in a garage that is used primarily for storing vehicles and other items. However, any additional rooms, such as an enclosed workshop, a guest room or other spaces, may need to be heated and cooled for maximum functionality. In some cases, the main home's established HVAC system can be accessed when building an attached garage. For a detached garage, however, a new system must be purchased and installed.
Design a New Garage for Your Home
At Coach House Garages, our experienced team wants to help you design a garage that perfectly meets all of your needs and expectations. We proudly serve homeowners throughout Illinois and Indiana, and also parts of Michigan, Iowa and Missouri. Click here to find your local Coach House Garages consultant to schedule a consultation.