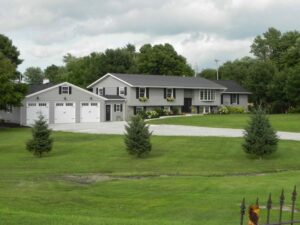 Installing a new garage can transform your home and your living experience in bold ways. Garages are commonly used to store everything from landscaping tools and equipment to sports gear, hobby supplies and other essentials. Their versatility extends to include secure storage for your vehicles, a workshop space for free-time activities and more. A new garage can also enhance your home's curb appeal and increase its value. Before you can take advantage of the extensive benefits of a new garage, however, you must decide between an attached vs detached garage.
Attached vs Detached Garage Construction Timeline
Because an attached garage will be constructed on one side of your established structure, the scope of the project must take this into account. Generally, an attached garage must use the same materials, such as brick or siding, and the roofing material needs to match perfectly. The style should also complement the home. One of the benefits of a detached garage from a custom builder is the freedom to use the material and dimensions you prefer, within certain limits, for your structure. Even if you choose to use the same materials your home is made out of, you can expect the construction of a detached garage to be completed on a shorter timeline.
The Cost of Installing a New Garage
There are numerous factors that impact the cost of a garage, such as its size and construction materials. Keep in mind that some HOAs may have specific requirements for a specific type of garage and its materials. If this is not a concern, there is greater flexibility with a detached garage to add a guest room, a workshop area or other features. This is because the structure of the main home may be limited.Another important factor that impacts cost is utility connections. With an attached garage, the contractor can use the connections that the main house uses for cost savings. With so many factors impacting cost, it may be best to compare cost estimates for both options before you determine which is more affordable.
Attached vs Detached Garage Resale Value
Before you install a new garage, you understandably want to know how it will impact your property value. Many of today's homebuyers expect their next house to have a garage, so it can be a negative selling point if your home lacks this space. Some buyers have a preference for a detached garage versus an attached garage, and vice versa. This is a personal preference that may not necessarily impact the price that they are willing to pay for the home. For both attached and detached garages, you can expect this addition to your home to add between $5,000 and $25,000 to the property value. Factors like a second-story living space, the construction materials and more will affect the actual impact on property value.
The Homeowner's Experience
When you look at the disadvantages and benefits of a detached garage versus an attached garage, it is critical that you think about your experience with the space. For example, if you plan to use your new garage to park your car, do you want to walk outdoors every day to access your car? On the other hand, if you want to use your garage as a workshop space, your family members may appreciate the sounds of your activities being separated from the main living area. Before settling on a specific type of garage, it is important to consider how you plan to use the space.
Other Important Factors That May Impact Preference
There are other factors that may play a role in your selection of an attached or detached garage. For example, the current layout of your home on your lot may not be suitable for an attached garage. The available space must be taken into consideration. Another factor is exposure to noxious fumes. Even in a well-sealed home, some vehicle exhaust may filter into the home from an attached garage. Likewise, fumes from painting, varnishing and other workshop activities could enter the home.
Explore Your Options in Detail Today
You can see that there are pros and cons to both options. Coach House Garages is a custom garage builder that serves homeowners throughout Indiana and Illinois as well as parts of Missouri, Iowa and Michigan. As you continue to weigh your choices, we invite you to consult with one of our garage construction experts for professional insight that is specifically related to your property and your needs.